"Creating a platform where females feel empowered." -Sydney Supple
Sydney is a rising senior at Northwestern University. Born and raised in Oshkosh, WI. Three-time Gatorade Player of the Year for Wisconsin and State Champion her senior year. She committed to Northwestern in 8th grade and she is a pitcher, first baseman, and designated hitter for the Northwestern Wildcats. This past year (21-22), Northwestern won the Big Ten Conference and beat Arizona State in the Super Regionals to make it to the Women's College World Series where she started as the DH…
and that is where this conversation jumps off from–the experience of playing in the Women's College World Series!
Lisa Bonta-Sumii, LCSW, CSW shares space with Sydney Supple in this episode — they discuss:
– 2022 Women's College World Series 
– Journalism major
– Softball teaches life lessons
– Chemistry, relationships, and culture
– "Ride the bus together"
– The future of softball
– Athlete mental health in softball
– Dealing with injury
– Belief in yourself
– Give in to the game
– Be a strong women
– Northwestern softball coach | Kate Drohan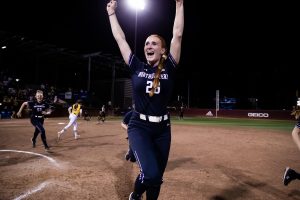 photos courtesy of Sydney Supple, Northwestern Wildcats Softball Player
—
In case you haven't noticed, we love podcasts. In fact, yeah, you should have one. We'll even build it for you. A podcast that is. Simply contact us here – we'll get your podcast published, fast. 
This is the AthMindset Podcast Series on SportsEpreneur. And it's all about mental health in sports.
From Lisa: I'm Lisa Bonta Sumii and this is the AthMindset Podcast Series on SportsEpreneur. This podcast series is a space for conversations with athletes, coaches, practitioners, and stakeholders in sports. And it's where those individuals share their perspectives, experiences, and thoughts on mental health in sports. 
Eric Kasimov of SportsEpreneur is generously hosting the AthMindset Podcast Series on his platform as he deeply believes that these conversations are essential and deserve to be prioritized.
This is the AthMindset Podcast Series on SportsEpreneur. SportsEpreneur — the content platform where sports, entrepreneurship, and mental health collide! If you are looking to start a podcast or create original content, you have to talk with the team at SportsEpreneur. I work with them and I vouch for them. It's that simple. Go to SportsE.io to learn more. 
Are you an athlete or entrepreneur looking to create content? Learn More.
Website worth a look:
More content around softball:
Connecting:
That's a wrap:
Thank you for listening to this AthMindset Podcast Series episode on SportsEpreneur titled, "Sydney Supple | Empowering Women and Northwestern Softball".
Intro Music, "escape" was provided by Pluto Tracks.
Check out more from our content platform: SportsEpreneur. The platform where sports and entrepreneurship and now mental health collide!